"A ban on taxpayer funding of abortion is the will of the people," quoth Speaker of the House John Boehner, thereby permanently confirming many a suspicion that he is not all that bright. In fact, American voters are concerned about the same thing they've been concerned about for the past three years, at least: Job loss, going broke, and the craptastrophe that is our economy. Not John, however! He's decided that HR3, the "No Taxpayer Funding For Abortion Act," is "one of our highest legislative priorities."
Which means that one of his highest legislative priorities is denying medical care to rape and incest survivors. The bill seeks to codify the Hyde Amendment, which already restricts public funding for abortion so severely as to make it basically useless for the vast majority of low-income people, and to pass this into law. However, UNLIKE the Hyde Amendment, it doesn't observe the long-standing truce between anti-choice extremists and rape survivors: Instead of holding forth, as even the rightfully-loathed Hyde Amendment and Stupak-Pitts Amendment have, that funding shall be made available for pregnant rape and incest survivors, it would only provide funding for survivors who have been "forcibly raped."
Which, as you know, is a tiny, tiny minority of survivors. 70% of rapes are "non-forcible." Rapists consciously seek out people and situations where they'll have to use a minimum amount of "force": They don't want to get caught, and they're cowards, so they prefer people who are already drugged, weak or unconscious. They groom their victims, isolate them, and use the minimum amount of force necessary to terrify their victims into compliance; their main weapons are fear, coercion, and the vulnerability of the victim. Under this bill, you don't count if you were drugged, you don't count if you were sleeping, you don't count if you were coerced, you don't even count if you were molested, because statutory rape doesn't count under this bill, either. And if you're an incest survivor? You don't count if you're over 18.
It is absolutely unacceptable for the government to minimize rape and attack rape survivors this way. It's disgusting. It's unconscionable. It's not just about abortion; it is passing rape apologism and rape culture into law. We're all familiar with the attitude that rape only "really" counts if someone jumps out of the bushes with a weapon and physically tortures, beats, or maims you in addition to raping you; that's a big part of what this clause is about. This sets a terrifying precedent that takes us back to the days when the law wouldn't define your rape as a rape unless you'd demonstrated "utmost resistance," meaning that you'd risked your life to get into a physical fight with someone who already wanted to rape you, and wouldn't have a problem with hurting you really, really severely to get that done. We cannot let this stand. It's not something on which there can be any compromise, ever, at any time.
Oh, but good news, because even if you're not a survivor, or just a decent person who doesn't believe we should be attacking, disrespecting, and ripping government protection away from the majority of rape survivors? The rest of the bill is going to hurt you, too. Let us count the ways!
1) It targets the most vulnerable survivors and people. OBVS. The attitude toward abortion, even in the days when it was illegal, was that exceptions could be made for the rich and privileged. If you had the cash, someone could probably put you in touch with a doctor who could make this happen, safely, quickly, and off the radar. The people without money and connections, the people who died by being disemboweled in "vacuum" abortions, or bled to death using coathangers or other sharp objects, or killed themselves or broke their own bones by jumping down flights of stairs, or burned their insides or poisoned themselves by taking unsafe and potentially lethal chemical douches or potions, were often poor people or people of color, or simply very young people who didn't know what to do or who to talk to. In other words, the very people who will be most affected by this bill. This bill, which makes abortion most impossible for low-income people, is economically discriminatory and racist, and seeks to take us back there. It preserves and strengthens a hierarchy of access to medical care that benefits only the most privileged people in America. Making abortion illegal or impossible to access doesn't stop people from getting or seeking abortions. It only endangers, harms, and kills the most vulnerable members of society. We are REQUIRED, as feminists, as citizens, as PEOPLE, to speak for them.

2) And if you are lucky enough to be insured, good news! This bill hurts you, too. It would make it impossible for the insured to deduct abortion as a "medical expense" on their taxes. This not only disincentivizes your insurance company to cover abortion in the first place, it's a push toward a world where we no longer recognize abortion as a medical procedure in the first place.

3) It codifies and strengthens "conscience" clauses. Meaning that your doctor can just straight-up refuse to provide you medical care, laying the Hippocratic Oath to waste at will, because of their, ha, "conscience." No matter what your circumstances are, no matter what your funds are, they can just refuse to do their job. And if you want to get a sense of how that works in practice, here's one example: In 2000, I was kicked out of a clinic in rural Ohio, and told to "keep my legs closed" by a doctor. Because I'd asked for the Morning-After Pill. Codifying "conscience" clauses doesn't just harm women who need abortions; it harms any person who might need any form of contraception in his or her lifetime.
We cannot let this stand. This is an attack on survivors, on women, on the poor, on anyone who stands to conceive, and on anyone who stands to be sexually assaulted: It is really, really, really fucking far from "the will of the people." It's just culture war, pushed by a group of people with ties to an extremist, openly anti-survivor, anti-choice movement that doesn't reflect the opinions, the beliefs, or the values of most Americans. 71% of Republicans don't support this bill: That's how far from "the will of the people" it is.
But, although we can't let this stand, we also can't just be outraged about it on the Internet. It's essential that we make the huge public opposition to this bill as visible as possible: That's why we're Tweeting at Boehner and others at #DearJohn. But we also absolutely have to make sure our representatives hear us in person. It's the beginning of the work week. And that means that all those Congresspeople need to hear from us, on the freakin' phone, until they get the message that their jobs are going to be very, very hard until they acknowledge the massive public opposition to HR3. We need to reach out to the people who might stand for us, like the Victims' Rights Caucus and the Pro-Choice Caucus, to applaud them for standing up for us and to ask them to make defeating this bill a crucial mission. We need to put massive amounts of pressure on the people who clearly don't stand with us, like Rep. Chris Smith of New Jersey, whose bill this is, and all of its co-sponsors, particularly those (male) few who happen to be Democrats: Our party is not allowed to sell out to those who deny medical care to survivors and attack people who need abortions, ever. We need to reach out to the Ways and Means Committee, which is currently handling this bill, and which has one — ONE! — Democratic woman on board. We need to reach out to Shelley Berkley, that one Democratic woman, and ask her to be our champion.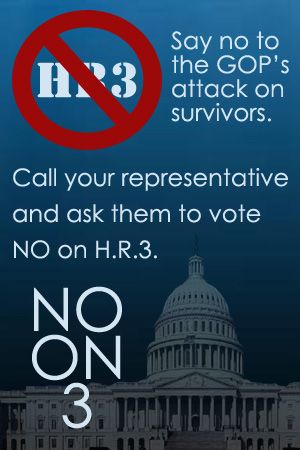 Click on this, and it should take you to a page where you can find out exactly who your rep is, and what their contact information is. Look that person up on Wikipedia, to get a sense of who they are, if you don't already know. Then, CALL THEM. Be polite; be professional; do not threaten or use violent or abusive language under any circumstances. Explain to them that their constituents don't support this bill, explain how and why it's a bad bill, and let them know that if they support or fail to oppose this bill, they can expect that to impact them in a very bad way when it comes to the matter of keeping their jobs. We hired them; we can fire them. We want to flood them with calls, today and tomorrow. We need to stand up and be counted. And we can. But we need to make sure they don't just see us talking on the Internet. We need to make sure they hear our voices, one by one by one.